JC: It's January in the Northeast, and we are thinking of how to heat our tiny home. With snow on the ground and a serious nip in the air, imagining our life in this (now cold) steel house has opened the doors of choice once again. What's the best way to make our future nest nice and cozy?
This weekend, we worked on placing Tite Seal window flashing along all the seams of the outside wall in order to insulate it the best we can before placing the cedar facade. That involved using a flashing tape backed with a rubberized layer. Using a heat gun, we warmed the metal to soften and spread the tape which doesn't really adhere very well when it's 40 degrees F outside.
So, once we finish up the outside of the tiny house, let's look at our heating choices for the inside:
Solar: Being interested in saving our environment, this is my natural favorite. And wouldn't it be nice to have all our electricity off the grid? The big questions remain: Are solar panels too bulky for our sloped roof? Where would we put the batteries? Can we afford it (would it pay off in the long run)?
Gas: Propane tanks are easily available at any gas station. My idea is a marine heater, possibly a Newport P9000 by Dickinson Marine, which can go for 150 hours on one 20 lb. tank.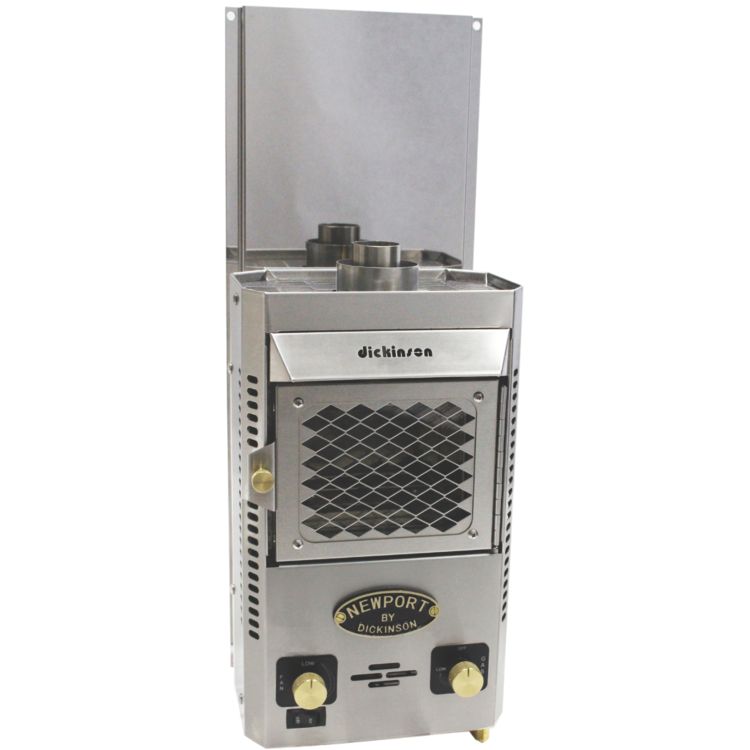 It's beautiful, small, and efficient. And with the same kind of metal shine as our Tiny House O'Steel!
Wood: Romantic. Cosy. This is our daughter's favorite. But I can't imagine what it would be like with everything smelling like smoke. And there's finding the fuel – depending of where we find ourselves, there won't always be a tree to burn.
As often happens in our relationship when one of us can't make a decision, I may just have to leave this one up to my partner!
By the way, one step closer to staying warm: JM's got his new Carhartt suit, as promised. Nobody said it was easy to get in and out of though…